The Enneagram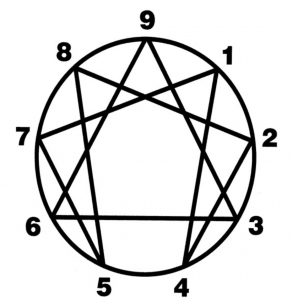 There are nine styles of trance
Nine ways in which we lose contact with Essence
Nine paths along which we Awaken
The Enneagram exists at the intersection of secular and spiritual psychology. It has been used for centuries as a tool for self understanding and today is being used extensively in Hollywood, corporate America, and in counseling.
Each human is born with a unique gift to offer, but as we react defensively to the pain of human experience, this gift becomes obscured. The defensive styles we adopt are a reflection of the gift, but are actually a protective mask, a false self. Another way to say it is we are all living in trance. The trance resides in an inner habit of what our attention is drawn to, and what story we tell ourselves about our experience.
The Enneagram is an exquisite tool for self understanding and working with self and others. The Enneagram describes in detail 9 portraits of how we fall away from Essence and how each type wakes up from the dream. For each of us, one of these types predominates. Our perception, thinking and feeling will be influenced by the "filters" of this style. Enneagram styles are like nationalities – we are all unique but belong to a larger group.
Our purpose in studying the Enneagram is to bring conscious awareness to unconscious structures in order to free enough energy to take a leap to the next level of Self Awareness. When we identify our core style, puzzling aspects of behavior make sense. We recognize more clearly why we think and act the way we do. We begin to see reality without the distortion of our inner movie. Deeper levels of reality that are not part of our style's drama can reveal themselves, bringing us more in touch with what lies beyond and is more fundamental than the filter of ego.
This program will give you a thorough understanding of each of the types and how to use it with yourself and others.
"The Enneagram is the finest tool I have ever discovered for working with clients. I use it extensively in my practice." – Dr. James Pico, Clinical Psychologist
"This was so spot-on, so useful in dealing with people." – Suza, Wilderness Instructor
You will meet…
The Perfectionist • The Helper • The Performer
The Romantic • The Observer • The Mistruster
The Adventurer • The Boss • The Harmonizer
---
The Enneagram is presented in an 11 Section Training Program in mp3 format (downloadable to iTunes)
$250 includes free follow up session to clarify any questions and discuss your particular type.
For information and purchase please contact Jason Brody, M.S.